Welcome!
I am Junior Professor in Applied Mathematics with Specialism in Risk and Uncertainty Quantification at the Freie Universität Berlin and Research Group Leader for Uncertainty Quantification at the Zuse Institute Berlin. I have wide interests in uncertainty quantification the broad sense, understood as the meeting point of numerical analysis, applied probability and statistics, and scientific computation. On this site you will find information about how to contact me, my research, publications, and teaching activities.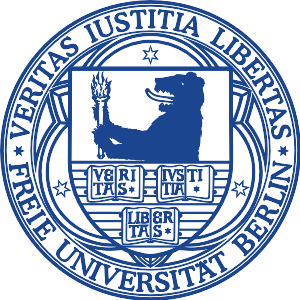 Within a few weeks a full-time two-year position for a postdoctoral researcher in the UQ group will be advertised by the Freie Universität Berlin. This position will be associated to the project "Analysis of maximum a posteriori estimators: Common convergence theories for Bayesian and variational inverse problems" funded by the DFG.
This project aims to advance the state of the art in rigorous mathematical understanding of MAP estimators in infinite-dimensional statistical inverse problems. In particular, the research in this project will connect the "small balls" approach of Dashti, Law, Stuart, and Voss to the calculus of variations and hence properly link the variational and fully Bayesian points of view on inverse problems.
Precise details of the application process will appear soon, at which point this news item will be updated accordingly. In the meantime, prospective candidates are welcome to contact me with informal enquiries.
Published on Monday 21 October 2019 at 08:00 UTC #group #job #fu-berlin #inverse-problems #dfg #map-estimators
The 2020 SIAM conference on Uncertainty Quantification (UQ20) will take place from 24 to 27 March 2020, on the Garching campus (near Munich) of the Technical University of Munich (TUM), Germany. UQ20 is being organised in cooperation with the GAMM Activity Group on UQ.
The website for UQ20 is now live and the call for submissions is open.
More information about the scientific programme will be added in due course, but the following scientists are already confirmed as plenary speakers: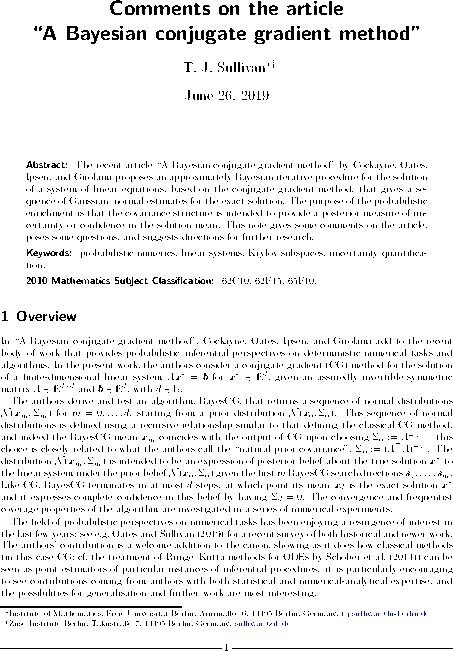 I have just uploaded a preprint of "Comments on the article 'A Bayesian conjugate gradient method'" to the arXiv. This note discusses the recent paper "A Bayesian conjugate gradient method" in Bayesian Analysis by Jon Cockayne, Chris Oates, Ilse Ipsen, and Mark Girolami, and is an invitation to a rejoinder from the authors.
Abstract. The recent article "A Bayesian conjugate gradient method" by Cockayne, Oates, Ipsen, and Girolami proposes an approximately Bayesian iterative procedure for the solution of a system of linear equations, based on the conjugate gradient method, that gives a sequence of Gaussian/normal estimates for the exact solution. The purpose of the probabilistic enrichment is that the covariance structure is intended to provide a posterior measure of uncertainty or confidence in the solution mean. This note gives some comments on the article, poses some questions, and suggests directions for further research.
Published on Wednesday 26 June 2019 at 08:00 UTC #publication #preprint #prob-num