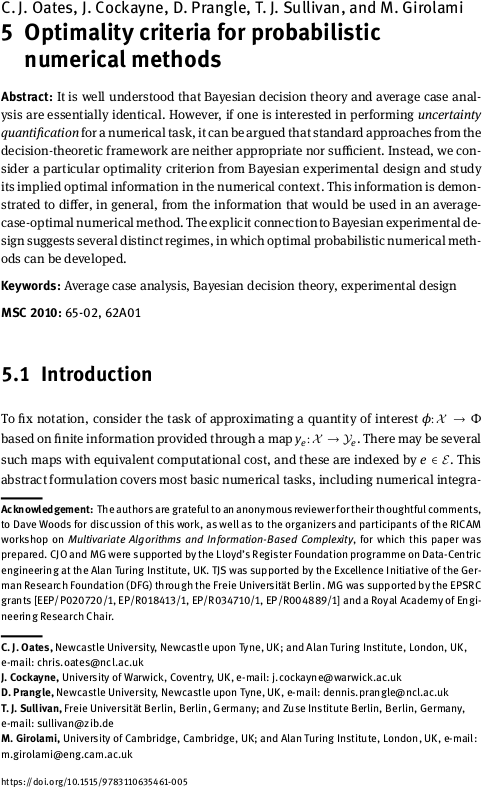 The paper "Optimality criteria for probabilistic numerical methods" by Chris Oates, Jon Cockayne, Dennis Prangle, Mark Girolami, and myself has just appeared in print:
C. J. Oates, J. Cockayne, D. Prangle, T. J. Sullivan, and M. Girolami. "Optimality criteria for probabilistic numerical methods" in Multivariate Algorithms and Information-Based Complexity, ed. F. J. Hickernell and P. Kritzer. Radon Series on Computational and Applied Mathematics 27:65–88, 2020. doi:10.1515/9783110635461-005
Abstract. It is well understood that Bayesian decision theory and average case analysis are essentially identical. However, if one is interested in performing uncertainty quantification for a numerical task, it can be argued that standard approaches from the decision-theoretic framework are neither appropriate nor sufficient. Instead, we consider a particular optimality criterion from Bayesian experimental design and study its implied optimal information in the numerical context. This information is demonstrated to differ, in general, from the information that would be used in an average-case-optimal numerical method. The explicit connection to Bayesian experimental design suggests several distinct regimes, in which optimal probabilistic numerical methods can be developed.
Published on Sunday 31 May 2020 at 08:00 UTC #publication #prob-num #oates #cockayne #prangle #girolami
It is a pleasure to announce that Birzhan Ayanbayev will join the UQ research group as a postdoctoral researcher with effect from 28 February 2020. He will be working on the DFG-funded project "Analysis of maximum a posteriori estimators: Common convergence theories for Bayesian and variational inverse problems".
Published on Friday 28 February 2020 at 12:00 UTC #group #job #dfg #map-estimators #ayanbayev