Chris Oates, Jon Cockayne, Dennis Prangle, Mark Girolami, and I have just uploaded a preprint of our paper "Optimality criteria for probabilistic numerical methods" to the arXiv.
Abstract. It is well understood that Bayesian decision theory and average case analysis are essentially identical. However, if one is interested in performing uncertainty quantification for a numerical task, it can be argued that the decision-theoretic framework is neither appropriate nor sufficient. To this end, we consider an alternative optimality criterion from Bayesian experimental design and study its implied optimal information in the numerical context. This information is demonstrated to differ, in general, from the information that would be used in an average-case-optimal numerical method. The explicit connection to Bayesian experimental design suggests several distinct regimes in which optimal probabilistic numerical methods can be developed.
Published on Tuesday 15 January 2019 at 11:00 UTC #preprint #prob-num #oates #cockayne #prangle #girolami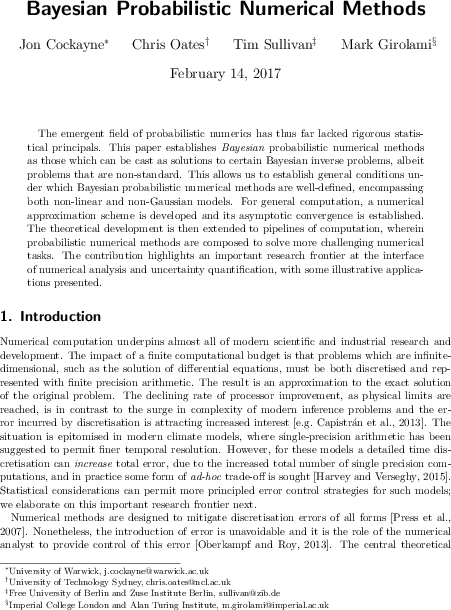 Jon Cockayne, Chris Oates, Mark Girolami and I have just uploaded a preprint of our latest paper, "Bayesian probabilistic numerical methods" to the arXiv. Following on from our earlier work "Probabilistic meshless methods for partial differential equations and Bayesian inverse problems", our aim is to provide some rigorous theoretical underpinnings for the emerging field of probabilistic numerics, and in particular to define what it means for such a method to be "Bayesian", by connecting with the established theories of Bayesian inversion and disintegration of measures.
Abstract. The emergent field of probabilistic numerics has thus far lacked rigorous statistical principals. This paper establishes Bayesian probabilistic numerical methods as those which can be cast as solutions to certain Bayesian inverse problems, albeit problems that are non-standard. This allows us to establish general conditions under which Bayesian probabilistic numerical methods are well-defined, encompassing both non-linear and non-Gaussian models. For general computation, a numerical approximation scheme is developed and its asymptotic convergence is established. The theoretical development is then extended to pipelines of computation, wherein probabilistic numerical methods are composed to solve more challenging numerical tasks. The contribution highlights an important research frontier at the interface of numerical analysis and uncertainty quantification, with some illustrative applications presented.
Published on Tuesday 14 February 2017 at 12:00 UTC #publication #preprint #prob-num #bayesian #cockayne #oates #girolami
Next week Jon Cockayne (University of Warwick) will give a talk on "Probabilistic Numerics for Partial Differential Equations".
Time and Place. Friday 14 October 2016, 12:00–13:00, ZIB Seminar Room 2006, Zuse Institute Berlin, Takustraße 7, 14195 Berlin
Abstract. Probabilistic numerics is an emerging field which constructs probability measures to capture uncertainty arising from the discretisation which is often necessary to solve complex problems numerically. We explore probabilistic numerical methods for Partial differential equations (PDEs). We phrase solution of PDEs as a statistical inference problem, and construct probability measures which quantify the epistemic uncertainty in the solution resulting from the discretisation [1].
We analyse these probability measures in the context of Bayesian inverse problems, parameter inference problems whose dynamics are often constrained by a system of PDEs. Sampling from parameter posteriors in such problems often involves replacing an exact likelihood with an approximate one, in which a numerical approximation is substituted for the true solution of the PDE. Such approximations have been shown to produce biased and overconfident posteriors when error in the forward solver is not tightly controlled. We show how the uncertainty from a probabilistic forward solver can be propagated into the parameter posteriors, thus permitting the use of coarser discretisations while still producing valid statistical inferences.
[1] Jon Cockayne, Chris Oates, Tim Sullivan, and Mark Girolami. "Probabilistic Meshless Methods for Partial Differential Equations and Bayesian Inverse Problems." arXiv preprint, 2016. arXiv:1605.07811
Published on Monday 3 October 2016 at 10:00 UTC #event #uq-talk #prob-num #cockayne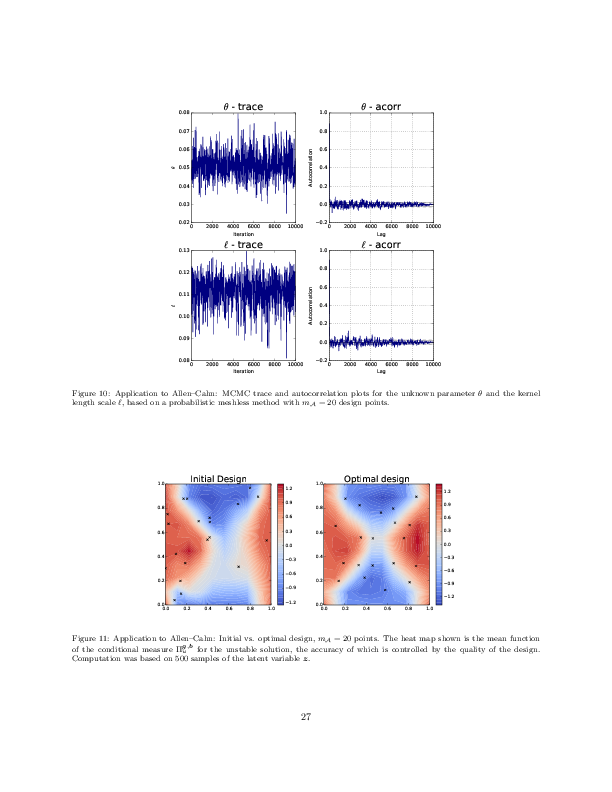 Jon Cockayne, Chris Oates, Mark Girolami and I have just uploaded a preprint of our latest paper, "Probabilistic meshless methods for partial differential equations and Bayesian inverse problems" to the arXiv. This paper forms part of the push for probabilistic numerics in scientific computing.
Abstract. This paper develops a class of meshless methods that are well-suited to statistical inverse problems involving partial differential equations (PDEs). The methods discussed in this paper view the forcing term in the PDE as a random field that induces a probability distribution over the residual error of a symmetric collocation method. This construction enables the solution of challenging inverse problems while accounting, in a rigorous way, for the impact of the discretisation of the forward problem. In particular, this confers robustness to failure of meshless methods, with statistical inferences driven to be more conservative in the presence of significant solver error. In addition, (i) a principled learning-theoretic approach to minimise the impact of solver error is developed, and (ii) the challenging setting of inverse problems with a non-linear forward model is considered. The method is applied to parameter inference problems in which non-negligible solver error must be accounted for in order to draw valid statistical conclusions.
Published on Thursday 26 May 2016 at 09:00 UTC #publication #preprint #prob-num #cockayne #oates #girolami